Key Points For Brain Force Plus Review

It is a cognitive enhancer made of natural ingredients.
It aims to improve memory retention and mental clarity.
It may be helpful for people who struggle with short-term memory.
It is designed to help with focus and concentration.
The formula is natural and does not contain chemicals, so it is not expected to cause serious side effects.
What is Brain Force Plus?
Brain Force Plus is a cognitive enhancer that is made of natural ingredients and will work to improve your mental condition.
It is going to help you with your memory retention and it could stimulate proper mental clarity. If you are having hard time remembering short facts which happened recently, this is something that might help you out.
It is also important to note that the product is supposed to help you focus. If that's an issue you are dealing with, the product might be able to help you out. Its formulation is entirely natural and it contains no chemicals, which is promising as it shouldn't bring any serious side effects.
Features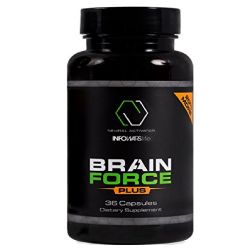 Editor's Rating
Brand Highlights
High-Functioning Brain Supplement
Improve Your Focus
Improve Your Blood Flow
Shop On AmazonShop On Walmart*All the prices mentioned on their websites are subject to change.
How Does It Rate?
Overall Rating: 2.8/5
| Features | Rating |
| --- | --- |
| Ingredients | 2.6/5 |
| Value for Cost | 2.7/5 |
| Manufacturer | 2.3/5 |
| Safety | 2.5/5 |
Who Makes Brain Force Plus?
Infowars is the company that makes Brain Focus. Alex Jones, a radio presenter, and conspiracy theorist, is the company's driving force. Jones runs the fake news website Infowars, which also sells Alex Jones dietary products.
Every time Jones goes on the air, he allegedly takes a Brain Force Plus pill, which, according to Jones, improves his performance.
A medical company with a California address, Labdoor Inc., reviewed six of the Infowar goods in 2017[1], and the results were made public. When compared to the anticipated outcomes, the findings call into question the company's marketing promises.
According to the investigation, the amount of the chemicals inside was too low to provide its consumers with any significant benefits.
What is the Brain Force Plus Claims?
The product's claims are fairly serious when it comes to it. It promises that it could enhance your cognition and focus. If you are failing to concentrate for more than a few minutes at a time, this is a product that might be able to help you out.
However, it is also worth noting that the product promises the improvement of your overall cognitive functioning and your brain's performance. It should also make you a lot more alert.
Specs
Form:

Capsules

Brand:

Infowars Life

Cost:

$39.95 + Free Shipping

Guarantee:

60-Day Money Back Guarantee

Contact:

Not Available

Ingredients:

Alpha GPC, Bacopa Herb Extract, Yerba Mate Leaf, Vitamin B12, L-Theanine

What are the Key Ingredients in Brain Force Plus?
The ingredients include:
Alpha GPC
– The primary reason that alpha GPC is used is its capacity to enhance mental processes. More specifically, Alpha GPC[2] may have a positive impact on your memory and ability to learn.
A study performed on this ingredient's ability to treat dementia suggests that this could be highly good for brain health.
Bacopa Herb Extract
– This ingredient's potent antioxidants are a common reason for its use. Additionally, it might improve the way your brain works and lower inflammation.
Bacopa plant[3] extract does appear to have potential, according to one study, even if long-term studies are still needed to assess its efficacy.
Yerba Mate Leaf
– A type of herbal tea called yerba mate is made from the shrub Ilex paraguariensis.
Because yerba mate also contains a lot of caffeine, it is used in this supplement[4]. It might give you more energy and maintain your focus.
The allegation is not supported by any scientific evidence, though.
Although Yerba is thought to be potentially safe in moderation, prolonged usage, and excessive doses may have unfavorable consequences such as headaches, anxiety, irregular pulse, and ringing in the ears.
Vitamin B6 & B12
– In addition to being necessary for the production of red blood cells and DNA, vitamin B12 helps the regular operation of nerve cells.
Serotonin[5], a neurotransmitter that aids in regulating mood and social behavior, is released with the help of vitamin B6.
According to research in The American Journal of Psychiatry, vitamins B6 and B12 can alleviate depression by lowering the body's homocysteine levels.
L-Theanine
–An amino acid generated from tea leaves is called L-theanine. Clinical research shows that this extract is useful in elevating mood and lowering stress and anxiety.
These assertions are supported by a study that was printed in The Journal of Clinical Psychiatry.[6].
How We Researched & Rated?
Here is our score, based on scientific evidence, of how likely Brain Force Plus will be effective for its claimed benefits:
Support Brain Health*

3.5/

5

Improve Focus & Concentration*

3.6/

5

Boosting the Mental Performance*

3.3/

5

Improve Cognitive Performance*

3.2/

5
We used the insights from our research and testing to assign a star rating from one to five (five being the best; one being the worst) to this product.
Pros and Cons of Brain Force Plus
Pros
The product might be able to improve the energy generation in your body
It might stimulate better concentration and thoroughly increase alertness
The natural formula might be helpful for improving focus, acuity, and memory
It might stimulate your overall mental wellness
Cons
The product doesn't seem to show the exact dosage of the ingredients
You wouldn't be able to find it at physical locations
The company only refunds unopened or unused bottles.
Can Brain Force Plus Improve Your Brain's Performance?
According to Infowars, Brain Force Plus is a nootropic stack that appears to be fantastic. But after more consideration, we believe its usage requires some prudence.
The supplement is not as potent as the manufacturer claims, despite the fact that the component list is lengthy.
It only contains a small number of very effective nootropic substances that improve cognition, learning, and memory. The remaining substances are either stimulants or may have long-term adverse effects.
Due to the inclusion of components like Bacopa and L-theanine, the supplement may be able to have some short-term effects; however, in the long run, it may not be as beneficial.
Additionally, the supplement lacks important components that support stress management, mood regulation, and neuroprotection.
This product falls short of a decent nootropic supplement's goal of balancing and enhancing overall brain health.
Product Comparison
To help you decide, here is a brief comparison of our top picks:
| Table of Content | Qualia-mind | Alpha brain | Brain Force Plus |
| --- | --- | --- | --- |
| Image | | | |
| Rating | 3.2 / 5.0 | 4.9 / 5.0 | 2.8 / 5.0 |
| Price | $139.10 | $34.95 | $39.95 |
| Sold By | Neurohacker Collective | Onnit | Infowars |
| Age Range | Adult | Adult | Adult |
| Brand Name | Neurohacker Collective | Onnit | Infowars |
| Dosage | 2 Capsule | 1 Capsule | 2 Capsule |
| Ingredients | Huperzia Serrata Leaf | L-Theanine | Yerba Mate Leaf |
| Unit Count | 154 Capsule | 90 Capsule | 30 Capsule |
| Read More | Read More | Read More | Read More |
FAQ's
What are the benefits of brain force pills?
A: Your cognitive function and mental attentiveness are improved. Additionally, it reduces tension and advances your overall health. With the benefits of phytoplankton components, Brain Force is packed with powerful natural compounds like Brahmi, Shankhpushpi, and Gingko.
What does brain force do?
A: The Potent Components of Brain Force PLUS Bacopa herb extract has long been utilized in Ayurvedic medicine as a significant neurological tonic and cognitive enhancer.
Choline, a water-soluble vital vitamin, is delivered over the brain barrier via alpha-GPC, a naturally occurring substance in the brain.
What Are The Side Effects Of Brain Force Plus?
A: A dietary supplement called Brain Force Plus makes claim that it helps with mental clarity and cognitive performance. It's crucial to remember that the FDA does not regulate dietary supplements and that their efficacy and safety are not necessarily well-established.
The specific side effects of Brain Force Plus are not well studied, but some of the substances may have minor negative effects. For instance, bacopa monnieri may result in weariness, dry mouth, nausea, and stomach cramps. Alpha-GPC has been linked to skin rashes, headaches, and wooziness. High blood pressure, anxiety, and restlessness can all be brought on by yerba mate.
Is Brain Force Plus Worth It?
A: Although the benefits of the components in Brain Force Plus have been scientifically established, the formula itself might not contain enough of the substances to enhance mental performance. It may also cause a number of negative side effects. Other, more potent supplements for brain health than Brain Force Plus might be available on the market.
Brain Force

i just started a new job and lately have found that i am making mistakes that i shouldnt be making and mistakes because i cant remember things…. i have been feeling like this for years to the point i really was thinking i should see my doctor .. really thinking that my brain was deteriorating! thats how bad it was ….. i have only been taking for less than a week and can already feel a difference! my mind is clearer and i am not making those stupid mistakes.. i love this stuff!!!!! I did start off taking 2 in the morning as it says take 2 a day but does not specify if you take together or not… well when i take 2 together in morning by mid morning I am very lightheaded and dizzy so i take one in early morning before work and then one after lunch.. problem solved no more feeling light headed!! i suggest anyone having memory problems buy this it really works ~Lisa, Amazon Customer
Brain Force Plus Review – Final Thoughts
As you can see for yourself, Brain Force Plus is a product that does seem quite reliable and holds a lot of merit to it.
Even though there are negative or ambiguous reviews, this is something quite present in a lot of the options out there.
It is very important, though, to note that the product contains entirely natural ingredients. This is suggesting that the side effects are virtually non-existent, providing serious merit.
Of course, when it comes to using something which is going to have an impact on your brain, it is important to make sure that you are taking everything as per the highest standards. Go ahead and get the opinion of your doctor and only proceed if he recommends it. Keep in mind that there are other options on the market as well.
More than ever people of all ages are struggling with memory problems. People are unable to disconnect from their work, while students are under immense pressure to perform. Brains are overloaded with information that must be remembered. A quality memory enhancement product should contain clinically proven ingredients that will help to enhance not only memory, but also focus and night concentration. Memory products should help to optimize overall mental health and brain function. Most importantly a memory product should work safely and gently to promote cognitive function.
Below you'll find some of the most effective memory products on the market today, in our opinion.
Our Top Memory Supplements Choices
Bottom Line
Noocube is a reputed dietary supplement and a well-tested nootropic made with all-natural ingredients. It boosts brain functions like memory and slows down neurodegeneration and brain aging. Such properties make it a perfect supplement for prolonged use.
Check Price
Bottom Line
Onnit Alpha Brain Collection is a set of supplements developed using the thinking and focus formula. This collection includes dietary supplements as capsules in addition to Alpha Brain Instant formulations and focus shots.
Check Price
Bottom Line
Nootrogen is a dietary nootropic supplement to boost brain function, memory, concentration, focus, and energy. The nutrient booster formula supports cognitive function without causing side effects.
Check Price
Bottom Line
Brain Pill is a widely popular supplement that boosts mental health and cognitive abilities. It is formulated with some effective natural ingredients which improved your focus by enhancing blood circulation in the brain cells. It not only improves your mental alertness but also reduce declines in brain function.
Check Price
Bottom Line
Cortisync is a dietary supplement made from natural ingredients that is meant to lower cortisol levels. It uses a combination of adaptogens that stop your body from reacting to stress and lower cortisol levels.
Check Price
Bottom Line
Brain C-13 is a unique supplement by Zenith Labs that improves brain health and shields the brain from harmful chemical compositions by drastically improving your memory and keeping your mind razor-sharp.
Check Price
**This is a subjective assessment based on the strength of the available informations and our estimation of efficacy.
*Result may vary. If you are pregnant, nursing, have a serious medical condition, or have a history of heart conditions we suggest consulting with a physician before using any supplement. The information contained in this website is provided for general informational purposes only. It is not intended to diagnose, treat, cure, or prevent any disease and should not be relied upon as a medical advice. Always consult your doctor before using any supplements.
*Disclosure of Material connection: Some of the links in the post above are "associate sales links." This means if you can click on the link and purchase an item, we will receive a commission. Regardless, we only recommend products or services which we use personally and/or believe will add value to our readers. We are disclosing this in accordance with the Federal Trade Commission's 16 CFR, Part 255: "Guides Concerning the Use of Endorsements and Testimonials."