Our brain, like other body organs, poor nutrition can result in psychological effects and poor cognitive functioning[1].
Achieving greatness depends on how well the mind can perform. For this reason, a company, Neurohacker Collective, has created a premium supplement to help support brain performance and health. The goal behind this product is to ensure our brain is well fueled for the challenges ahead.
What is Qualia Mind?
This product by the Neurohacker Collective is specially designed to give both men and women a whole cognitive upgrade by helping promote focus, support energy, mood, memory, creativity, and mental clarity.
The product seems to features a working process, which supplies our brain with the essential nutrients need to keep the brain's cognitive function optimized.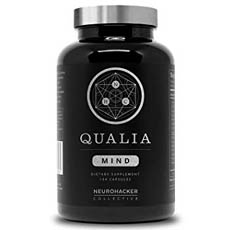 This process is believed to help inhibit certain complications as a result of aging or improper dieting such as brain fog, mental exhaustion, etc. Qualia Mind may be all the help you need to support your brain's long-term health and functionality.
What are the Qualia Mind Claims?
The company behind the production and manufacturing of Qualia Mind is Neurohacker Collective. They are well-known and with a lots of mixed feedbacks on thier official website.
Qualia Mind is manufactured with 28 equipotent ingredients believed to be able to fuel the brain to achieve several cognitive benefits. The nootropic product is purported to enhance by helping push aside all distraction like ruminating thought for a clear head.
The product may boost user's energy to last all day without sudden crashes but an improved and motivated mood. Furthermore, Qualia Mind is designed to amplify users willpower to carry out your goals with undiminished drive and clarity.
And, help promote the mental well-being by combating long-term cognitive problems. Above all, the nootropic item may help boosts the development of neurons, mitochondrial ATP, synapse development and other brain cells.
And, as such, may result in a better brain performance, increased cognitive capacity, and productivity.
The Key Ingredients and How They Work?
Qualia Mind contains several botanical extracts, vitamins, and minerals to help support the mind's overall health. These ingredients possess anti-oxidant, antidepressants, and sedative properties to help keep the brain relax, protected and functional.
Here are some crucial ingredients included in the nootropic product:
Acetyl-L-Carnitine: Capable of crossing the blood-brain barrier, thereby resulting in a brain's mitochondrial output boost.
Artichoke Stem and Leaf Extract: Possess antioxidant properties which are of benefits to the brain health.
Bacopa Monnieri Extract: A popular herbal cholinergic adaptogen often included in several nootropic products because of its significant nootropic potential is known to help improve learning and memory[2].
Rhodiola Rosea Extract: A potent anti-stress adaptogen used in traditional medicine for its strong effects on cognitive clarity and fatigue.
DL-Phenylalanine: This substance may help improve mood and handle anxiety levels.
Uridine Monophosphate Disodium: This ingredient often added due to its significant benefits to brain energy.
N-Acetyl L-Tyrosine: It helps inhibit episodes of brain crashing due to stress or sleeplessness.
Taurine: It appears to play a vital role in relaxing the mind with its semi-seductive properties.
L-Theanine: A common nootropic helps relax the mind and increase attentiveness without possessing any sedative effects.
Alpha GPC: A choline-containing supplement used by both young and old to improve memory and alleviate declining cognitive functions.
Citicoline: It promotes and energizes the brain's performance[3] and also known to support the increase in memory, attention, concentration, and focus.
Mucuna Pruriens Extract: It is used to boost the testosterone levels and may increase the level of dopamine and reduce cortisol level.
Phosphatidylserine: It may help sharpen the memory, slow cognitive degeneration, help with mood, mental clarity, socialization, and anxiety.
Theobromine: It possess stimulatory effects bearing a resemblance to caffeine.
Anhydrous Caffeine: A concentrated form of caffeine which acts as a stimulant.
DHA (Docosahexaenoic): This compound has anti-inflammatory effects.
Celastrus Paniculatus Extract: It helps protect our brain cells and increase cognition.
Ginkgo Biloba Leaf Extract: It alleviate cognitive decline and improve memory.
Coleus Forskohlii Extract: It is known to improve neuron-to-neuron communication.
Pyrroloquinoline Quinone: An antioxidant which may help promote sleep, improve fatigue levels and stress.
Huperzine A: Acts as a cognitive enhancer, which prevents the enzyme responsible for the degeneration of the learning neurotransmitter known as acetylcholine. And as a result, cognitive performance increases.
Can Qualia Mind Improve Your Brain's Performance?
Neurohacker Collective takes advantage of the multiple types of synergies available today. Ingredients offer certain benefits alone, while entirely different benefits when used together. The company focuses on synergistic benefits to help improve brain performance and productivity.
Qualia Mind has various antioxidant, adaptogen, choline donors and many more to provide the adequate support for an optimized mind. For your mind to function at its apex, you need to supply the organ with necessary nutrients, which is what Qualia Mind does.
What are the Strengths of Qualia Mind?
Qualia Mind may help boost concentration, motivation, focus and support with the production of energy.
It may ensure that you have a calmed mind from ruminating thoughts.
it may be responsible for the increase in willpower.
Contains 28 premium ingredients, with some believed to help mental clarity and concentration.
The product may help improve mood.
What are the Weaknesses of Qualia Mind?
Weekly Cycling is necessary, i.e., five days on and two days off
The product may bring about irregular heartbeats in caffeine sensitive individual.
Qualia Mind may help not help users dealing with depression.
The nootropic may not improve learning intelligence in elderly people.
FAQ's
Is Qualia Mind safe?
According to the product's label back, Qualia Mind contains a proprietary mix of nootropic compounds, anti-oxidants, amino acids, neuro-vitamins, adaptogen extracts, and choline donors. The manufacturer claims the ingredients included in the formulation are pure, and are added in ideal ration for systematic balance.
With respect to the manufacturer's ingredients list on the offical website, it appears that the supplement do not contain any trace of GMOs, Gluten, flavors, artificial color, or sweeteners. However, users should follow the recommended dosage to ensure no resulting health problems.
How Should You Use Qualia Mind?
According to Neurohacker Collective, the dosage is seven pills and should be taken before breakfast. However, if stomach upset occurs use along meal then. Nevertheless, users can adjust the dosage based on your on body chemistry, weight and sensitivity. However, it is not advisable to take more than 10 pills at a time or above 12 capsules in a day.
How Much Does it Cost?
If the purchase is made through the company, which has two ways of purchase of Qualia Mind:
Single Order: $139
Subscription: $89
There is also a money-back guarantee for customers who are not pleased with the product and can request for refund during the period.
Qualia Mind Review – Final Thoughts
In the end, the supplement, Qualia Mind, features a formulation with 28 potent ingredients, which may be way more than most supplement offers. The manufacturer alleges that the product was designed with one thought in mind how to ensure everyone attains high cognitive performance.
The supplement's ingredients are equipotent and known to help boost memory, concentration, mood, mental clarity, and slow cognitive decline. However, to avoid further health complications do not use if you are already taking SSRIs, MAO inhibitors and other neurological medications.
Also, consuming seven pills every morning before breakfast may be disturbing to some people. The supplement dosage seems to vary based on people's chemistry, therefore ensure you speak with a professional before assuming dosage.