ADDTabz Review
The challenges of life these days are huge and it is hard for both our body and mind to keep up. If you feel like you need a brain booster to help you focus and memorize things, you might resort to nootropic supplements.
These cognitive enhancers can boost your mental performance and, in this article, we are focusing on ADDTabz.
What is ADDTabz?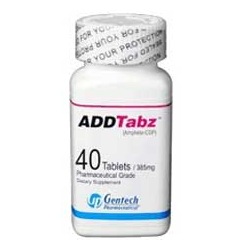 ADDTabz is a "smart" supplement designed by Lexium International. Its goal is to improve your brain's performance with a particular focus on learning and memorizing abilities. The manufacturer emphasizes that the product is intended to be used by anyone who has 18 years of age or above. However, they pinpoint the effectiveness for college students who need a boost during exam times.
It is interesting to note that Lexium International does not claim that their product contains herbal or natural ingredients. In fact, they used the term "designer product" to describe a supplement whose ingredients are essentially produced in a lab.
What are the Product Claims?
You can expect different kinds of benefits from using ADDTabz. The crucial one is that it improves your learning and memorizing abilities. That means you will be able to memorize more during a shorter period. This could be particularly important for students with multiple exams, as well as managers that have a bunch of meetings in a short time span.
The product claims to be able to improve your cognitive skills, such as focus and alertness. If your brain is everywhere and you are having troubles concentrating, this might be what you need. The final benefit is that it can reduce stress and make you feel better by lifting your mood.
The Key Ingredients and How they Work?
Although there is 1000 mcg of folic acid in ADDTabz, it's the proprietary blend that can be considered the key ingredient. This blend contains:
Caffeine anhydrous – This powder is nothing else than natural caffeine in dehydrated form. As such, it is far more powerful than regular caffeine or coffee
Choline bitartrate – We used to receive this nutrient through nutrition, but modern diet doesn't secure enough of it. Choline is significant for both muscle control and memory and it helps protect the cell membranes
Cytidine Diphosphate-Choline – This nootropic also goes under the name of Citicoline. It is a vital ingredient that can have positive effect on boosting memory in adults. It has a particularly positive effect on the elderly and their issues with loss of memory
Synephrine Hydrochloride – You probably heard of bitter orange, haven't you? It is related to putting mental fatigue under control and increasing both mental and physical performance. Aside from increasing focus and alertness, it is also used in weight loss supplements
Octopamine Hydrochloride – Its role is to boost the receptors of norepinephrine and dopamine and act as a neurotransmitter. It can increase alertness and focus, especially in situations when you are feeling fatigued or sleepy. It is also used in weight loss supplements
Folic acid – It is part of B-vitamin family that can be diluted in water. It helps your organism in absorption of other nutrients and it is used as a part of treatment for Alzheimer's disease and other memory loss issues
Can ADDTabz Improve Your Brain's Performance?
Performing up to our expectations or exceeding them is something we would love to do all the time. But sometimes you cannot combat the stress and demands in various areas of life. ADDTabz does have the power to help you when you feel like your mental performance needs a boost.
If you take a look at the list of ingredients, you see how they can work together into making you a focused and highly capable learner. It can be of essential assistance while you are preparing an important exam. On top of that, it helps your body to release dopamine, which puts you in a better mood and makes you eager to learn new information.
What are the Strengths of ADDTabz?
It provides an instant effect
Increases your learning abilities
May improve your memory
It may help boost focus and other cognitive abilities
Can be purchased without a prescription
What are the Weaknesses of ADDTabz?
Designed in the lab and not derived from herbal ingredients
FAQ's
Is ADDTabz Safe?
While the product is considered safe, there are some side effects that you may experience because ADDTabz is a powerful pill. We advise you to take each capsule with a lot of water to help your body dilute the ingredients.
How Should You Use ADDTabz?
The manufacturer recommends taking the pill on an empty stomach for best effects. That means you should take it about 30 minutes before breakfast. If you feel that it makes you nauseous or upsets your stomach, try taking it before lunch.
Avoid taking ADDTabz late in the afternoon or evening or you might have issues to fall asleep.
How Much Does It Cost?
A single pack that contains 30 pills costs $69 plus the costs of shipping. If you buy a double pack at once, you can get it for $128 with free shipping included.
Customer Reviews and Testimonials
You can find several positive and negative reviews about the product online. Numerous users are commending the effects that ADDTabz had on their mental performance, but others believe that it is not worth the money. A customer said that he didn't believe the effect of the pills in the beginning. However, after trying it for a couple of days, he was thrilled. He does emphasize that he had a bigger need for cigarettes because he is a smoker.
ADDTabz Review – Final Thoughts
Lexium International is a reputable company and they came up with an excellent mix of brain-boosting ingredients in ADDTabz. These capsules are powerful and taking just one of them will enable you better focus and increase your learning abilities. This is an important advantage because many other nootropics do not have an instant effect and focus on long-term improvement.
ADDTabz is recommended for students, but some of them might not be able to afford it. Also, please acknowledge that this is a lab-made supplement, which means there are no herbal or natural ingredients, but only synthetic ones. Regardless of these downsides, nobody can neglect that the product can do what it claims and boosts your mental health.
However, we urge readers to explore more options available on the market before settling on this product.