What is EzyAbsorb Dose?
EzyAbsorb Dose is a nootropic supplement that is designed to affect what the manufacturer calls the four critical functions of the brain. These four functions are focus, memory, clarity and mood.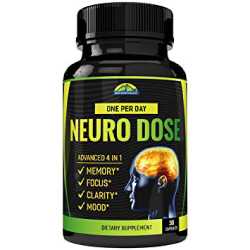 Basically EzyAbsorb Dose is a supplement that is intended to improve how your mind works. This product is also stated to be beneficial for the health of cells and blood flow and be made up of a unique formula.
The manufacturer goes on to state that EzyAbsorb Dose is a complete formula for your brain but it should be noted that this is not intended to be a medication of any kind.
Rather, EzyAbsorb Dose attempts to provide your body with the nutrients that it may not be getting through your regular diet – nutrients that are supposedly critical for the function of your brain. This is an oral supplement that comes in pill form.
What are EzyAbsorb Dose's Claims?
The claims about EzyAbsorb Dose are made by the manufacturer of the same name as of product. The company name seems to be EzyAbsorb and they may be based in Singapore.
So this company claims that EzyAbsorb Dose will improve your focus, mood, clarity, and memory. It also claims to help with blood flow to the brain and neurons.
What are the Key Ingredients and How They Work?
While EzyAbsorb Dose does not claim itself to be a natural supplement, most of the ingredients are natural but some are questionable and may be synthetic.
Still, most certainly are naturally occurring so let's take a look at some of them.
Bacopa Monnieri Extract – This is a natural and holistic extract that has been used for a very long time to treat memory loss and to help prevent it.
Phosphatidylserine – This is a phospholipid and is in the important programmed death of cells, making way for new brain cells and promoting long-term brain health.
Ginkgo Biloba Extract – Another herbal supplement that has long been used to help improve the memory and balance moods.
Vitamin B12 – This B vitamin plays an important role in metabolic health and may support healthy brain function[1].
Vitamin B3 – Sometimes called niacin, this B vitamin is believed to support normal brain function.
Rhodiola Rosea Extract – Rhodiola Rosea Extract[2] is an adaptogenic herb that helps the brain deal with stress so it acts as a sort of mood enhancer.
Bioprene – This substance is used to help the body absorb nutrients more efficiently.
Alpha GPC – This ingredient affects the neuronal cell membranes, helping them function better.
Can EzyAbsorb Dose Improve Your Brain's Performance?
This product intends to elevate your mood, sharpen your focus, improve your memory, and increase clarity.
There are some good ingredients in this product such as bacopa which is proven but it really comes down to the fact that nootropic supplements affect everyone differently so you might just have to try it and see.
What are the Strengths of EzyAbsorb Dose?
EzyAbsorb Dose contains proven nootropics such as Bacopa.
This product may have a beneficial effect on your brain cell membranes.
This product may be able to improve your memory.
It is possible that EzyAbsorb Dose can also help balance your mood.
What are the Weaknesses of EzyAbsorb Dose?
This product may cause you to slow your thoughts down.
You may have an allergic reaction to the rice content of the capsule itself.
The claims of the manufacturer of EzyAbsorb Dose may be a bit overstated.
This product may not have long-term effects on your cognitive functions.
FAQ's
What is the Return and Exchange policy?
We could not find any information regarding a return or exchange policy but the company website has a page in which you can contact them with questions.
How Should You Use EzyAbsorb Dose?
The directions clearly state that this product is to be used as a dietary supplement only. Furthermore, you are to take 1 EzyAbsorb Dose pill a day.
How Much Does it Cost?
You can buy a bottle of EzyAbsorb Dose for $14.95 with a free delivery option from one of the retailer's site. One bottle of EzyAbsorb Dose contains 30 capsules.
EzyAbsorb Dose Review – Final Thoughts
Our final thoughts on this product are that it has an equal amount of ups and downs. The ups are that it may help improve your memory and your mental focus. It also contains at least one nootropic ingredient that is well-regarded.
The downs are that the capsule is made up of rice which may cause an allergic reaction in some users and that it contains Huperzine which does not function optimally in the brain.
You may not experience any long-term benefits simply by taking EzyAbsorb Dose. What we recommend is taking a look at other nootropic supplements as well as EzyAbsorb Dose.