Key Points For Memo Prove

MemoProve is a cognitive health supplement marketed to support and enhance memory, focus, and mental clarity.
It contains N-PEP-12 Peptones, a derivative of cerebrolysin, which is a substance naturally occurring in the brain and used in experimental treatments for Alzheimer's disease.
MemoProve's efficacy and safety may be uncertain as there is limited information available on N-PEP-12 Peptones outside of what is provided by the manufacturer.
It is important to consult with a qualified healthcare professional before using MemoProve or any other supplement, especially if you have underlying health conditions or are taking other medications.
As with any supplement, it is crucial to carefully read and follow the manufacturer's recommended dosage and usage instructions.
MemoProve's claims should be critically evaluated, considering multiple sources of information, such as scientific research, customer reviews, and expert opinions.
Individual results may vary, and supplements should not be relied upon as a sole solution for cognitive health or any other medical condition.
What is MemoProve?
MemoProve is a supplement in the class of nootropics that are used to deal with age-related memory loss. Some of its functions include enhanced alertness, increased concentration, and improved memory.
This product is formulated with neuropeptides, which are small chains of amino acids. These inhibit the neurodegenerative changes caused by age by supporting the regeneration of neurons.
Features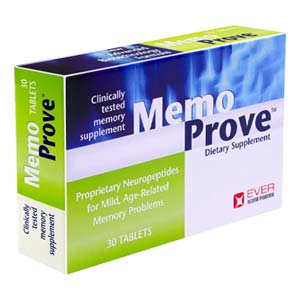 Editor's Rating
Brand Highlights
Increased concentration
Improves the health of the brain
Reduce anxiety and stress
Shop On AmazonShop On Walmart*All the prices mentioned on their websites are subject to change.
What Manufacturers Say?
Certainly! N-PEP-12 Peptones, found in MemoProve, is a derivative of cerebrolysin, a substance that occurs naturally in the brain and has been used in experimental treatments for Alzheimer's disease.
However, there is limited information available about N-PEP-12 Peptones outside of what is provided by the manufacturers themselves. It is unclear whether this derivative is as effective as cerebrolysin or if it can genuinely support the claims made about MemoProve's benefits.
Specification
Form:

Capsule

Quantity:

30

Usage:

Benefits include Fast-Acting, Supports Relaxed Mental State, and Quiets Racing Thoughts. Free of Artificial Ingredients, Flavors, Colors, Fillers, Wheat, Soy, or Gluten.

Dosage:

1 capsule a day

Safety:

Not to be consumed by Pregnant women and children

Ingredients:

Memo Prove contains natural ingredients such as N-PEP-12 Peptones, Croscarmellose sodium, Microcrystalline cellulose, Lactose monohydrate, Cellulose acetate phthalate, Magnesium stearate, Triethyl citrate, Silicon dioxide, Titanium dioxide, Talcum, Synthetic paraffin
What are the MemoProve Claims?
This product is made up of ingredients that are protein-rich foods, which are clinically tested.
The manufacturer claims that the product is free from preservatives, sugar, dairy, artificial colors, herbs, yeast, and stimulants.
They also claim that this product is not suitable for vegetarians although it is mild and can be tolerated.
The Key Ingredients and How They Work?
N-PEP-12 Peptones
-N-PEP-12 Ingredients called peptones are generated from proteins and are employed in a variety of products, including food and medicine. They deliver nutrients and vital amino acids, enhancing the final product's nutritional value and functionality.
Croscarmellose sodium
– A super disintegrant used in pharmaceutical excipients is croscarmellose sodium[1]. As mentioned by M S Gordon 1, B Chatterjee, and Z T Chowhan It is frequently used in tablets and capsules to help in the dissolution and disintegration process, increasing the bioavailability of the active components.
Microcrystalline cellulose
– A purified version of cellulose called microcrystalline cellulose[2] is utilized as a filler and binder in medications and dietary supplements. As documented by Azimonti, Maria de Lourdes Bastos, Henrik Christensen, and Birgit Dusemund, It can be used as a diluent to add bulk to formulations and has high compressibility and flowability, making it suited for tableting and encapsulation.
Lactose monohydrate
– A form of sugar made from milk called lactose monohydrate[3] is employed as a filler, binder, and diluent in medications and dietary supplements. As mentioned by Thamer Alzoubi, Gary P Martin, David J Barlow, and Paul G Royall in scientific journals It can serve as a carrier for active compounds and improve the compositions' physical qualities.
Cellulose acetate phthalate
– Pharmaceuticals employ the polymer cellulose acetate phthalate as an enteric coating. It supports targeted release in the intestines and aids in protecting the active components from stomach acid.
Magnesium stearate
– A typical lubricant and anti-adherent utilized in the manufacture of tablets and capsules is magnesium stearate[4]. It improves formulation flowability and prevents ingredients from adhering to manufacturing equipment.
Triethyl citrate
– A plasticizer called triethyl citrate is utilized in medications[5] and dietary supplements. The adaptability and stability of solid dosage forms, such as coatings and films, can be improved.
Silicon dioxide
– Silica, commonly referred to as silicon dioxide, is a flow enhancer and anti-caking ingredient used in medications and dietary supplements. It improves formulation flowability[6] and prevents powder from clumping.
Titanium dioxide
– Pharmaceuticals and nutritional supplements[7] employ the pigment titanium dioxide as an opacifying and coloring ingredient. Published by Matej Skocaj, Metka Filipic, Jana Petkovic, and Sasa Novak It can be employed for aesthetic reasons and gives formulas whiteness and opacity.
Talcum
– Talcum, commonly known as talc, is a mineral used in dietary supplements and pharmaceuticals as a lubricant, anti-caking agent, and flow booster[8]. It enhances the flowability of formulations and aids in keeping powders from clumping.
Synthetic paraffin
– A form of hydrocarbon-based wax called synthetic paraffin[9] is employed as a lubricant and coating agent in pharmaceuticals and dietary supplements. It can give tablets and capsules a smooth surface to help with swallowability and production. Mentioned in a research paper by Witold Fortuniak, Stanislaw Slomkowski, Julian Chojnowski, Jan Kurjata, Adam Tracz, and Urszula Mizerska.
What are the MemoProve Benefits?
Research has suggested that Intelleral Benefits are associated with several cognitive processes, including:
Improved cognitive function:

Cognitive function, such as memory, learning capacity, and mental agility, may be enhanced with MemoProve.

Increased focus:

To stay on track and be more productive, the supplement may help you focus and concentrate more.

Enhanced mental clarity:

By supporting brain function, it may promote mental clarity and reduce brain fog, making it easier to think clearly and make decisions.

Reduced stress and anxiety:

The ingredients in MemoProve may help reduce stress and anxiety, allowing you to feel calmer and more relaxed.
How We Researched & Rated?
Here is our score, based on scientific evidence, of how likely MemoProve will be effective for its claimed benefits:
Support Brain Health*

3.5/

5

Improve Focus & Concentration*

3.6/

5

Boosting the Mental Performance*

3.3/

5

Improve Cognitive Performance*

3.2/

5
We used the insights from our research and testing to assign a star rating from one to five (five being the best; one being the worst) to this product.
Pros and Cons of MemoProve
Pros
It leads to improved concentration, alertness, and memory.
It also improves the health of the brain.
It helps to enhance mental clarity and sharpness.
It helps to reduce anxiety and stress.
Cons
The exact amounts of the ingredients have not been mentioned.
The product is not suitable for pregnant or lactating mothers and children below the age of 18 years.
Product Comparison
To help you decide, here is a brief comparison of our top picks:
| Table of Content | Qualia-mind | Alpha brain | MemoProve |
| --- | --- | --- | --- |
| Image | | | |
| Rating | 3.2 / 5.0 | 4.9 / 5.0 | 2.9 / 5.0 |
| Price | $139.10 | $34.95 | $49.95 |
| Sold By | Neurohacker Collective | Onnit | Memo Mind Pharma |
| Age Range | Adult | Adult | Adult |
| Brand Name | Neurohacker Collective | Onnit | Memo Mind Pharma |
| Dosage | 2 Capsule | 1 Capsule | 1 Capsule |
| Ingredients | Huperzia Serrata Leaf | L-Theanine | Lactose monohydrate |
| Unit Count | 154 Capsule | 90 Capsule | 30 Capsule |
| Read More | Read More | Read More | Read More |
FAQ's
Are There Any Side Effects?
A: MemoProve's neuropeptides (N-PEP-12) are derived from natural protein sources and there is no evidence of any side effects of N-PEP-12 in clinical trials. The studies performed with N-PEP-12 demonstrate that it is an absolutely safe and effective compound.
Is Memo Prove Safe?
A: The product has been clinically tested for efficacy and safety of the user. The manufacturer claims that the product is mild and as such can be tolerated. The product is however not suitable for vegetarians and anyone who does not consume pig products as the peptones are extracted from pigs.
What is the Memo Prove?
A:
Memoprove is only available online, directly through the official website at $49.95 per box. One box contains 30 small-sized tablets. The recommended dosage is one tablet per day, so one box is all you need for a month. You can save by buying in bulk; 3 packs are $142.36, and 6 packs are $269.73.
Even so, it works out very expensive to use Memoprove long-term, and we're not sure that the high price is justified.
Shipping costs $9.95 and there is a only 30-day money-back guarantee.
Is MemoProve Addictive?
A: This information has not been mentioned by the manufacturer although that does not rule it out as non-addictive. This is why it is important to talk to a doctor before using it.
Found This Working Well
Can you imagine being at a very important function and cannot remember the name of an important person who was just introduced to you in the last 15 minutes? This used to happen to me until I found MemoProve. Now I am able to remember people, faces, and places, thanks to MemoProve. ~Roger, Amazon Customer
MemoProve Review- Final Thoughts
This product is one of the nootropics that have uniquely blended ingredients. This ensures that the supplement competes favorably with other nootropics in the market.
The product helps to stop the activity of degeneration of neurons that affect memory retention.
The pricing of the supplement is pocket-friendly which makes the product available to most people. Of particular advantage are the options given when it comes to purchasing, in that the user can purchase 1, 3, or 6 packs of the product. The product also comes with a money-back guarantee which assures the user of the formula's efficacy.
The manufacturer does not, however, mention the amounts of ingredients used to make this product. They also claim that the product is not suitable for vegans or people opposed to eating pork, as the active ingredients are extracted from the pigs.
The users are therefore encouraged to do thorough research about these supplements before deciding on the product to use.
The user should, however, be guided by quality, ingredients, and proof of efficacy. They are also supposed to consult with the doctor before deciding to use any supplement for safety purposes.
More than ever people of all ages are struggling with memory problems. People are unable to disconnect from their work, while students are under immense pressure to perform. Brains are overloaded with information that must be remembered. A quality memory enhancement product should contain clinically proven ingredients that will help to enhance not only memory, but also focus and night concentration. Memory products should help to optimize overall mental health and brain function. Most importantly a memory product should work safely and gently to promote cognitive function.
Below you'll find some of the most effective memory products on the market today, in our opinion.
Our Top Memory Supplements Choices
Bottom Line
Noocube is a reputed dietary supplement and a well-tested nootropic made with all-natural ingredients. It boosts brain functions like memory and slows down neurodegeneration and brain aging. Such properties make it a perfect supplement for prolonged use.
Check Price
Bottom Line
Onnit Alpha Brain Collection is a set of supplements developed using the thinking and focus formula. This collection includes dietary supplements as capsules in addition to Alpha Brain Instant formulations and focus shots.
Check Price
Bottom Line
Nootrogen is a dietary nootropic supplement to boost brain function, memory, concentration, focus, and energy. The nutrient booster formula supports cognitive function without causing side effects.
Check Price
Bottom Line
Brain Pill is a widely popular supplement that boosts mental health and cognitive abilities. It is formulated with some effective natural ingredients which improved your focus by enhancing blood circulation in the brain cells. It not only improves your mental alertness but also reduce declines in brain function.
Check Price
Bottom Line
Cortisync is a dietary supplement made from natural ingredients that is meant to lower cortisol levels. It uses a combination of adaptogens that stop your body from reacting to stress and lower cortisol levels.
Check Price
Bottom Line
Brain C-13 is a unique supplement by Zenith Labs that improves brain health and shields the brain from harmful chemical compositions by drastically improving your memory and keeping your mind razor-sharp.
Check Price
**This is a subjective assessment based on the strength of the available informations and our estimation of efficacy.
*Result may vary. If you are pregnant, nursing, have a serious medical condition, or have a history of heart conditions we suggest consulting with a physician before using any supplement. The information contained in this website is provided for general informational purposes only. It is not intended to diagnose, treat, cure, or prevent any disease and should not be relied upon as a medical advice. Always consult your doctor before using any supplements.
*Disclosure of Material connection: Some of the links in the post above are "associate sales links." This means if you can click on the link and purchase an item, we will receive a commission. Regardless, we only recommend products or services which we use personally and/or believe will add value to our readers. We are disclosing this in accordance with the Federal Trade Commission's 16 CFR, Part 255: "Guides Concerning the Use of Endorsements and Testimonials."