What Is Jet-Alert?
Sometimes you do not have time to whip up a large cup of coffee and drink it, but you could use a handsome dose of caffeine. This is where Jet-Alert comes into play. This natural supplement that comes in form of caplets which offers a quick caffeine boost that your body might need. It may come in handy when you need a speedy energy boost as it can assist in increasing focus and alertness, as well as memory and concentration.
Jet-Alert is manufactured by Bell Pharmaceuticals. This company is based in Minnesota, United States, and you can reach them via phone or their official website. When it comes to supplements, this is the only one they produce.
However, you may find Jet-Alert in two different packages – Regular Strength and Double Strength. The first option offers a quite moderate amount of caffeine, which is why we recommend the latter one.
What are the Product Claims?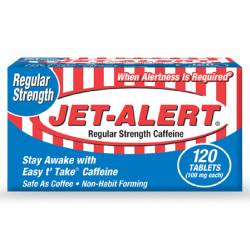 According to the manufacturer, just a single caplet of Jet-Alert is enough to substitute two cups of coffee. In fact, one of their selling points is that this supplement is caffeine that is easy to take as it won't take more than a couple of seconds to ingest the caplet with some water. Not only you can quickly consume it, but the manufacturer claims that it is also fast acting. The potential benefits of caffeine might appear shortly after you took the capsule.
When it comes to potential benefits, Jet-Alert may help to improve alertness when you are required to be at your best. The product can help if you are experiencing drowsiness and fatigues as caffeine might assist in making you energized and focused for the current assignment. Finally, the company claims that there is no danger that this product will make you addicted. According to them, this is just a healthy alternative to coffee without sugar or calories.
The Key Ingredients and How They Work?
We checked the label of Jet-Alert for its active ingredients and here is what we found:
Caffeine – Although it belongs to stimulants, caffeine is widely used around the world thanks to coffee and tea. When it comes to nootropic benefits, caffeine might help to boost your alertness and attention, which can assist in focusing on the tasks at hand. At the same time, it may even boost your motivation, promote a positive mood, and assist in enhancing your memory.
Silicon Dioxide – An inactive ingredient that serves to prevent other components from gluing together
Microcrystalline Cellulose – A connective agent that supports the product's optimal absorption
Lactose – A type of sugar often found in dairy
D&C Yellow #10 – It is a type of dye used to color the tablets
Calcium Stearate – A lubricant used in the production process of supplements
The serving of caffeine varies depending on the type of product you choose. If you want "Regular Strength" Jet-Alert, you will get 100mg per caplet, but if you go with "Double Strength" product, you will receive 200mg of caffeine per serving.
Can Jet-Alert Improve Your Brain's Performance?
Jet-Alert may have a potential effect on the cognitive functions of your brain thanks to the utilization of caffeine. The working process of the supplement starts a little after you have orally ingested it.
You may start feeling a boost of energy and soon after that, you might feel that your alertness is increased, too. The product also works towards helping to improve your focus and memory.
What are the Strengths of Jet-Alert?
A quick alternative to ingesting caffeine without drinking coffee
The product may improve your alertness, focus, and memory
Taking the supplement can help to boost your energy levels
A suitable alternative for those that do not like the taste of coffee
What are the Weaknesses of Jet-Alert?
The product doesn't have a long-term benefit
The effect of a single caplet will wear off after about three hours
The supplement cannot provide the same level of pleasure as drinking a cup of coffee
You should limit other caffeine products while taking this supplement
FAQ's
Is Jet-Alert Safe?
The only active ingredient in Jet-Alert is caffeine, which makes this product safe to use. However, keep in mind that you should restrict the intake of coffee and other beverages containing caffeine, as well as food or medications that contain this compound. This is just to be on the safe side and prevent caffeine overdose.
How Should You Use Jet-Alert?
The directions state that you should start by taking a single capsule. The general estimate is that a single pill should last for about three hours. If you need the effect to last more, you can take another caplet after that.
How Much Does It Cost?
The price of a single packaging Jet-Alert is $18.60 and you will get 90 caplets for the price.
Jet-Alert Review – Final Thoughts
The manufacturer of Jet-Alert had an interesting idea – providing a caffeine alternative for those that do not like or do not have enough time to drink coffee. As a result, this supplement can boost your energy just like a large cup of coffee, but you should be aware that it doesn't provide the level of pleasure as when you are drinking your favorite drink.
You might consider taking this product when you need a boost of focus and alertness for the task at hand, but keep in mind that the effect will wear off after three hours and there are no long-term benefits for your brain's performance. Finally, you may also want to consider some other options on the market to ensure that you've made the right choice when it comes to the supplement you want to use.