What Is Haleo Mindset?
Haleo Mindset is a supplement that may help to use the maximum potential of your cognitive abilities. This product is a nootropic that aims to optimize and improve brain health and prevent cognitive decline. It contains a mixture of vitamins, herbal-based extracts, and other ingredients that may boost your memory and other cognitive skills, as well as help to improve mental energy levels and promote stress relief.
The product is manufactured by the company under the name Haleo. The headquarters of Haleo Worldwide are in California, United States, but according to the information found online this company is originally from Japan. They make several types of supplements, including conditioning, protein, assisting products for athletes, as well as various gear.
What are Product Claims?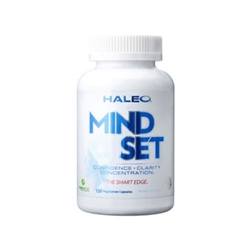 If you take a closer look, you discover that the manufacturer is quite brave when it comes to claims about what their product can do. They pinpoint that Haleo Mindset can help users to experience improved focus at the task at hand. In fact, their claim is that the product might be effective and get you ready for complicated mental activities only 30 minutes after taking it.
The supplement may also help you to deal with brain fatigue or so-called "fog." If you are in the need of mental clarity, perhaps you can see some benefit from this product. It also supports relaxation and might help you to feel less stressed. This can, in turn, also affect your calmness in the long run.
The Key Ingredients and How They Work?
The formula of Haleo Mindset contains the following ingredients:
L-Tyrosine – This is an amino acid that is used in some treatments of dementia and Alzheimer's disease. It may prove helpful in improving mental energy
Ginkgo Biloba – Many supplements use the extract of maidenhair tree due to its nootropic properties, including the potential to help in improving memory, access to information, and other cognitive functions
L-Theanine – The compound originates from tea leaves and may promote stress relief and relaxation while helping to improve your focus at the same time
Bacopa Monnieri – A natural component that may boost memory, protect brain cells and prevent cognitive deterioration, especially in conditions like Parkinson's and Huntington's
Alpha-GPC – The scientific name is Alpha-Glyceryl Phosphoryl Choline, but the important thing is that this is a nootropic compound that professionals use in the treatment of dementia. It might assist in boosting thinking, learning, and memory functions of the brain.
The formula also contains Vitamin B1, Vitamin B3, Folate, Vitamin B5, Vitamin B12, N-Acetyl-L-Carnitine, Wild Blueberry Extract, Theobromine, and Picamilon. As for inactive ingredients, you will encounter Silicon Dioxide, Turmeric Root Powder, Magnesium Stearate, Microcrystalline Cellulose, and Hypromellose.
Can Haleo Mindset Improve Your Brain's Performance?
Haleo Mindset has plenty of ingredients that work together toward a single objective – assisting your brain to maintain and boost its functions. One way of doing this is by helping to improve blood and oxygen circulation to the brain and aiding to optimize the function of neurotransmitters.
Some other ingredients, such as vitamins, work on helping to decrease fatigue and promote energy and motivation. Another component of the working process is that the product works on boosting your brain's long-term health. This potential benefit may be achieved by utilizing the ingredients that have antioxidant properties.
What are the Strengths of Haleo Mindset?
The supplement may boost blood and oxygen flow to the brain
Ingredients assist in boosting various cognitive functions, such as memory and focus
A mixture of vitamins may help to protect brain cells from deteriorating
Users might experience an energy boost when taking the product
What are the Weaknesses of Haleo Mindset?
The product has been reported as discontinued
Some ingredients do not have nootropic benefits
Users should pay attention to allergen information to avoid possible allergic reactions
Some claims might be overestimating the product a bit
FAQ's
Is Haleo Mindset Safe?
Haleo Mindset appears to be safe, but you should pay attention to the allergen information provided on the bottle. The product itself contains soy, but it was also manufactured in a facility that also processes shellfish, nuts, wheat, eggs, milk, and fish.
How Should You Use Haleo Mindset?
You should take a total of four capsules every day with 12 ounces of water. For optimal results, you should aim to use the product for about 30 minutes before you expect a challenging mental activity. It is recommended to take the product on an empty stomach approximately half an hour before a meal.
How Much Does It Cost?
You can find some remaining supplies of Haleo Mindset for $19.99. However, keep in mind that the product has been reported as discontinued.
Haleo Mindset Review – Final Thoughts
Haleo Mindset offers a blend of more than ten ingredients that may help to boost brain performance, including assisting in providing enhanced thinking, memory, and focus. However, some compounds that are part of the formula, such as wild blueberry extract, do not have nootropic properties.
While the product appears to be fine overall, please acknowledge that it comes with a couple of disadvantages and it has been reported as discontinued, which makes it tough to find a place to purchase it. You might want to consider exploring other supplements with similar benefits before making a definite decision about buying any of them.