What is Haleo Mindset?
Haleo Mindset is a supplement that may help to use the maximum potential of your cognitive abilities. This product is a nootropic that aims to optimize and improve brain health and prevent cognitive decline. It contains a mixture of vitamins, herbal-based extracts, and other ingredients that may boost your memory and other cognitive skills, as well as help to improve mental energy levels and promote stress relief.
The product is manufactured by the company under the name Haleo. The headquarters of Haleo Worldwide are in California, United States, but according to the information found online this company is originally from Japan. They make several types of supplements, including conditioning, protein, assisting products for athletes, as well as various gear.
Features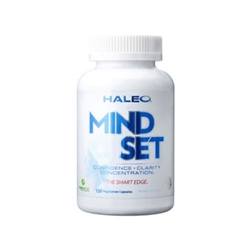 Editor's Rating
Brand Highlights
Enhanced focus
Mental clarity
Increased productivity
Lower stress levels/promote calmness
Increases motivation
Several offline and online merchants, including the official website, sell this product. These are the manufacturer's prices:
Shop On AmazonShop On walmart*All the prices mentioned on their websites are subject to change.
What are the Product Claims?
If you take a closer look, you discover that the manufacturer is quite brave when it comes to claims about what their product can do. They pinpoint that Haleo Mindset can help users to experience improved focus on the task at hand. In fact, their claim is that the product might be effective and get you ready for complicated mental activities only 30 minutes after taking it.
The supplement may also help you to deal with brain fatigue or so-called "fog." If you are in the need of mental clarity, perhaps you can see some benefit from this product. Published in our one review It also supports relaxation and might help you to feel less stressed. This can, in turn, also affect your calmness in the long run.
Specification
Form:

Capsule

Quantity:

60

Usage:

Benefits include enhanced brain health over the long run, as well as better memory, concentration, focus, energy, mood, and motivation.

Dosage:

4 capsules a day

Safety:

Not to be consumed by Pregnant women and children

Ingredients:

Haleo Mindset contains natural ingredients such as L-Tyrosine, Ginkgo Biloba, L-Theanine, Bacopa Monnieri, Alpha-GPC
The Key Ingredients and How They Work?
Haleo Mindset
Of course, the ingredients which are supposed to help you get there are just as important.
L-Tyrosine
According to Mirjam Bloemendaal, Monja Isabel Froböse, Joost Wegman, and Bram Bastiaan Zandbelt, This is an amino acid[1] that is used in some treatments of dementia and Alzheimer's disease. It may prove helpful in improving mental energy.
Ginkgo Biloba
Many supplements use the extract of the maidenhair tree due to its nootropic properties[2], including the potential to help in improving memory, access to information, and other cognitive functions. Studied in research done by R. B. Silberstein, A. Pipingas, J. Song, D. A. Camfield, P. J. Nathan, and C. Stough.
L-Theanine
According to the study of Shinsuke Hidese, and Shintaro Ogawa, The compound originates from tea leaves and may promote stress relief[3] and relaxation while helping to improve your focus at the same time.
Bacopa Monnieri
A natural component that may boost memory[4], protect brain cells and prevent cognitive deterioration, especially in conditions like Parkinson's and Huntington's.
Alpha-GPC
The scientific name is Alpha-Glyceryl Phosphoryl Choline, but the important thing is that this is a nootropic compound that professionals use in the treatment of dementia. It might assist in boosting the thinking, learning, and memory functions of the brain.
According to Adam G Parker, Allyn Byars, Martin Purpura, and Ralf Jäger, The formula also contains Vitamin B1, Vitamin B3[5], Folate, Vitamin B5, Vitamin B12, N-Acetyl-L-Carnitine, Wild Blueberry Extract, Theobromine, and Picamilon. As for inactive ingredients, you will encounter Silicon Dioxide, Turmeric Root Powder, Magnesium Stearate, Microcrystalline Cellulose, and Hypromellose.
What are the Haleo Mindset Benefits?
Research has suggested that Intelleral Benefits are associated with several cognitive processes, including:
Improved cognitive function:

Cognitive function, such as memory, learning capacity, and mental agility, may be enhanced with Haleo Mindset.

Increased focus:

To stay on track and be more productive, the supplement may help you focus and concentrate more.

Enhanced mental clarity:

By supporting brain function, Haleo Mindset may promote mental clarity and reduce brain fog, making it easier to think clearly and make decisions.

Reduced stress and anxiety:

The ingredients in Haleo Mindset may help reduce stress and anxiety, allowing you to feel calmer and more relaxed.
Can Haleo Mindset Improve Your Brain's Performance?
Also, Mindset has plenty of that work together toward a single objective – assisting your brain to maintain and boost its functions. As mentioned in our review. One way of doing this is by helping to improve blood and oxygen circulation to the brain and aiding to optimize the function of neurotransmitters.
Some other ingredients, such as vitamins, work on helping to decrease fatigue and promote energy and motivation. Another component of the working process is that the product works on boosting your brain's long-term health. This potential benefit may be achieved by utilizing ingredients that have antioxidant properties.
Pros and Cons of Intelleral
Pros
The supplement may boost blood and oxygen flow to the brain.
Ingredients assist in boosting various cognitive functions, such as memory and focus.
A mixture of vitamins may help to protect brain cells from deteriorating.
Users might experience an energy boost when taking the product.
Cons
The product has been reported as discontinued.
Some ingredients do not have nootropic benefits.
Users should pay attention to allergen information to avoid possible allergic reactions.
Some claims might be overestimating the product a bit.
Where To Buy Haleo Mindset?
You can buy Haleo Mindset straight from the manufacturer's website or from a number of online merchants. Haleo Mindset is sold by a number of well-known online merchants, including Amazon, Walmart, and GNC.
What is the Side Effect of Haleo Mindset?
Some potential side effects[6]of Haleo Mindset may include:
Headache
Nausea
Dizziness
Insomnia
Allergic reaction (rare)
FAQs
Is Haleo Mindset safe?
A: Haleo Mindset appears to be safe, but you should pay attention to the allergen information provided on the bottle. The product itself contains soy, but it was also manufactured in a facility that also processes shellfish, nuts, wheat, eggs, milk, and fish.
How Should You Use Haleo Mindset?
A: You should take a total of four capsules every day with 12 ounces of water. For optimal results, you should aim to use the product for about 30 minutes before you expect a challenging mental activity. It is recommended to take the product on an empty stomach approximately half an hour before a meal.
How Much Does it Cost?
A: You can find some remaining supplies of Haleo Mindset for $19.99. However, keep in mind that the product has been reported as discontinued.
How long does it take to see results from taking Haleo Mindset?
A: Outcomes may vary, but after using Haleo Mindset for a few days or weeks, some people may begin to experience an increase in their cognitive function and mental clarity.
Rating for Claimed Benefits
Here are our ratings, based on scientific evidence, of how likely Haleo Mindset will be effective for its claimed benefits:
Helps to optimize brain health*

4.2/

5

Support cognitive function*

4.1/

5

Improve mental clarity*

3.7/

5

Provide balance to your mood and focus*

4.1/

5
Note: We used the insights from our research and analysis to assign a star rating from one to five (five being the best; one being the worst) to this product.
Haleo Mindset Review- Final Thoughts
Haleo Mindset offers a blend of more than ten ingredients that may help to boost brain performance, including assisting in providing enhanced thinking, memory, and focus. However, some compounds that are part of the formula, such as wild blueberry extract, do not have nootropic properties.
While the product appears to be fine overall, please acknowledge that it comes with a couple of disadvantages and it has been reported as discontinued, which makes it tough to find a place to purchase it. You might want to consider exploring other supplements with similar benefits before making a definite decision about buying any of them.
Where To Find It?
Noocube can be purchased through the Official Website.
More than ever people of all ages are struggling with memory problems. People are unable to disconnect from their work, while students are under immense pressure to perform. Brains are overloaded with information that must be remembered. A quality memory enhancement product should contain clinically proven ingredients that will help to enhance not only memory, but also focus and night concentration. Memory products should help to optimize overall mental health and brain function. Most importantly a memory product should work safely and gently to promote cognitive function.
Below you'll find some of the most effective memory products on the market today, in our opinion.
Our Top Memory Supplements Choices
Bottom Line
Noocube is a reputed dietary supplement and a well-tested nootropic made with all-natural ingredients. It boosts brain functions like memory and slows down neurodegeneration and brain aging. Such properties make it a perfect supplement for prolonged use.
Check Price
Bottom Line
Onnit Alpha Brain Collection is a set of supplements developed using the thinking and focus formula. This collection includes dietary supplements as capsules in addition to Alpha Brain Instant formulations and focus shots.
Check Price
Bottom Line
Nootrogen is a dietary nootropic supplement to boost brain function, memory, concentration, focus, and energy. The nutrient booster formula supports cognitive function without causing side effects.
Check Price
Bottom Line
Brain Pill is a widely popular supplement that boosts mental health and cognitive abilities. It is formulated with some effective natural ingredients which improved your focus by enhancing blood circulation in the brain cells. It not only improves your mental alertness but also reduce declines in brain function.
Check Price
Bottom Line
Cortisync is a dietary supplement made from natural ingredients that is meant to lower cortisol levels. It uses a combination of adaptogens that stop your body from reacting to stress and lower cortisol levels.
Check Price
Bottom Line
Brain C-13 is a unique supplement by Zenith Labs that improves brain health and shields the brain from harmful chemical compositions by drastically improving your memory and keeping your mind razor-sharp.
Check Price
**This is a subjective assessment based on the strength of the available informations and our estimation of efficacy.
*Result may vary. If you are pregnant, nursing, have a serious medical condition, or have a history of heart conditions we suggest consulting with a physician before using any supplement. The information contained in this website is provided for general informational purposes only. It is not intended to diagnose, treat, cure, or prevent any disease and should not be relied upon as a medical advice. Always consult your doctor before using any supplements.
*Disclosure of Material connection: Some of the links in the post above are "associate sales links." This means if you can click on the link and purchase an item, we will receive a commission. Regardless, we only recommend products or services which we use personally and/or believe will add value to our readers. We are disclosing this in accordance with the Federal Trade Commission's 16 CFR, Part 255: "Guides Concerning the Use of Endorsements and Testimonials."