What is Douglas Labs Brain ENERGY?
Douglas Labs Brain ENERGY is a product that can help in improving mood, clarity, focus and memory to help you perform your work as expected of you.
The product can be helpful in reducing anxiety, dementia, depression and combat mental decline for improved performance both at home and work.
It is claimed to deliver essential nutrients to your brain which may help in proving desired support to the injured brain cell. It can also boost the levels of important neurotransmitters in your brain.
What are the Product Claims?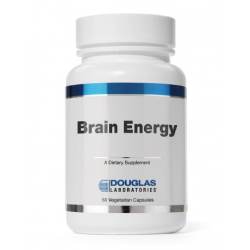 It is a product that can supply precursor amino acids and vital nutrients which have been formulated carefully to help provide nutritional support for neurotransmitter dopamine and brain energy.
It is claimed to improve concentration, focus and attention. The product is manufactured by a company called Douglas Labs. The manufacturer claims to utilize safe components which can work well to give you desired outcomes.
The company also claims to manufacturer the product after rigorous research and it produces it in a facility registered by GMP.
It is alleged to help alleviate depression and enhance your mood to keep you happy all day long. It might sharpen your thinking and boost focus to help you work on your tasks.
The Key Ingredients and How They Work?
The product is alleged to contain comprehensive ingredients which may support better and healthy brain function. The ingredients are alleged to be safe when you consume the product. The ingredients are as discussed below:
300 mg DL-Phenylalanine – It is a compound that can metabolize two different chemicals (L and D) into phenylethylamine. It can help regulate your mood as well as improve your sense of well-being.
200 mg L-Tyrosine – It is a type of amino acid which is claimed to be manufactured in your body. It is used as a precursor to certain neurotransmitters which may boost your cognitive function.
75 mg Rhodiola Rosea Root Extract – It is a known compound which may work well by fighting biological as well as chemical stress. Therefore, it can enhance your physical and emotional energy to make you work well throughout the day.
60 mg L-Methionine – It an amino acid that may provide synergistic support for your brain.
2 mg Octacosanol – It is known to be physical and exercise enhancing substance which may help regulate your nervous system by lifting mood, reduce stress and increase energy. It can also boost your overall health.
Can Douglas Labs Brain ENERGY Improve Your Brain's Performance?
The product is claimed to deliver important nutrients to the injured brain cell and may increase the levels of neurotransmitters. It can fight fatigue, boost memory, focus and reduce anxiety for improved brain performance.
What are the Strengths of Douglas Labs Brain ENERGY?
It may help fight anxiety and depression.
It can improve your focus and memory so that you may handle your tasks well.
It might help fight weight gain.
It is claimed to reduce fatigue and increase energy so that you can work for long during the day for better productivity.
It can help boost your sense of awareness.
What are the Weaknesses of Douglas Labs Brain ENERGY?
The product may not be suitable for treating, preventing, diagnosing or curing any disease.
FAQ's
Is Douglas Labs Brain ENERGY Safe?
The manufacturer claims to use safe ingredients which cause no adverse effects. However, you can check its ingredients list to make sure that the components are safe for human consumption.
How Should You Use Douglas Labs Brain ENERGY?
Take two capsules of Douglas Labs Brain ENERGY in the morning. You can also consume it with lunch or take as directed by your physician.
How Much Does it Cost?
The product is sold through online and a bottle costs $29.70 only.
Douglas Labs Brain ENERGY Review – Final Thoughts
It is a product that is meant to improve the performance of your brain for better productivity.
The product is claimed to boost focus, memory and reduce depression and anxiety.
Nonetheless, check well its ingredients to find out if they work as claimed and if they are safe or not before purchasing the product.